IAC Accreditation
Pacific Vascular Laboratories have achieved Vascular Testing re-accreditation by the Intersocietal Accreditation Commission (IAC) – for these examinations:
Extracranial Cerebrovascular Testing
Intracranial Cerebrovascular Testing
Peripheral Arterial Testing
Peripheral Venous Testing
Visceral Vascular Testing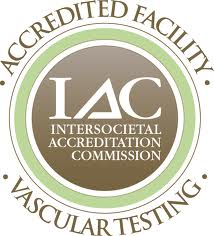 Pacific Vascular is one of only 3% of all accredited vascular labs nationwide that are accredited in all five areas of vascular ultrasound testing by the IAC.
Pacific Vascular initially received accreditation in 1993 and was granted re-accreditation in all five areas of vascular diagnostic ultrasound testing in 2014.
Accreditation by the IAC means that Pacific Vascular has undergone a thorough review of its operation and technical components by a panel of experts. The IAC grants accreditation only to those facilities that are found to be providing quality patient care, in compliance with national standards through a comprehensive application process including detailed case study review.
IAC accreditation is a "seal of approval" that patients can rely on as an indication that the facility has been carefully critiqued on all aspects of its operations considered relevant by medical experts in the field of Vascular Testing. When scheduled for a Vascular Testing procedure, patients are encouraged to inquire as to the accreditation status of the facility where their examination will be performed and learn more by visiting www.intersocietal.org/vascular/main/patients.htm.
IAC accreditation is widely respected within the medical community, as illustrated by the support of the national medical societies related to Vascular Testing, which include physician, Technologists and sonographers. Patients should remain vigilant in making sure that their Vascular Testing procedures are performed within accredited facilities, because for many facilities it remains a voluntary process.
IDTF Status
In April, 2004 Pacific Vascular Achieved status as an IDTF (Independent Diagnostic Testing Facility). This is a change in classification with the Medicare Program.
What is an IDTF?
42 CFR 410.33 states that an Independent Diagnostic Testing Facility (IDTF) may be a fixed location, a mobile entity, or an individual nonphysician practitioner. It is independent of a physician's office or hospital; however, these rules apply when an IDTF furnishes diagnostic procedures in a physician's office. Furthermore, the Medicare Program Integrity Manual Chapter 10 § 5.1 notes that if a substantial portion of a physician or group practice of physicians business involves the performance of diagnostic tests, the diagnostic testing services may be a sufficiently separate business to warrant enrollment as an IDTF (it is considered independent for purposes of enrollment). In that case, the physician or group can continue to be enrolled as a physician or a group practice of physicians, but must also enroll as an IDTF. The physician or group can bill for professional fees and the diagnostic tests they perform on their patients using their billing number. However, the practice must bill as an IDTF for diagnostic tests furnished to Medicare beneficiaries who are not patients of the practice. The carrier should advise the entity (physician or group practice) how to bill for physician office tests versus IDTF tests and advise the claims personnel of the dual enrollment.
Credentials

Non-physician personnel must demonstrate basic qualifications to perform the tests and have training and proficiency as demonstrated by licensure or certification by an appropriate state health or education department. For this reason, all Pacific Vascular Technologists must successfully complete the minimum prerequisites to sit for and pass the vascular registry examinations offered through the ARDMS (American Registry of Diagnostic Medical Sonographers) to become Registered Vascular Technologists – RVTs.
Ordering of Tests

All procedures performed by the IDTF must be specifically ordered in writing by the physician who is treating the beneficiary for a specific medical problem and who uses the test results in the management of the beneficiary's specific medical problem. The written order must specify the diagnosis or basis for testing, the tests ordered, and the signature of the ordering physician. For this reason, Pacific Vascular must comply by requiring a written order for each requested exam.
Site Visits

To ensure quality and accuracy of information submitted to CMS, laboratory site visits are performed on an unannounced basis. A site inspector will verify the existence of the lab, and can inspect the testing equipment and various tests being performed.
On being an Official IDTF

As a company committed to the highest standards and full compliance with all rules and regulations related to our field, PVI is extremely proud to have achieved this status. In many respects, the standards required of an IDTF far exceed those of other provider types, for instance, the requirement that testing be performed by an RVT is not required of vascular laboratories in hospitals or physician's offices (except those required to become IDTFs). Thus, becoming an IDTF is very much in keeping with PVI's desire to not only meet generally accepted standards, but to exceed them.